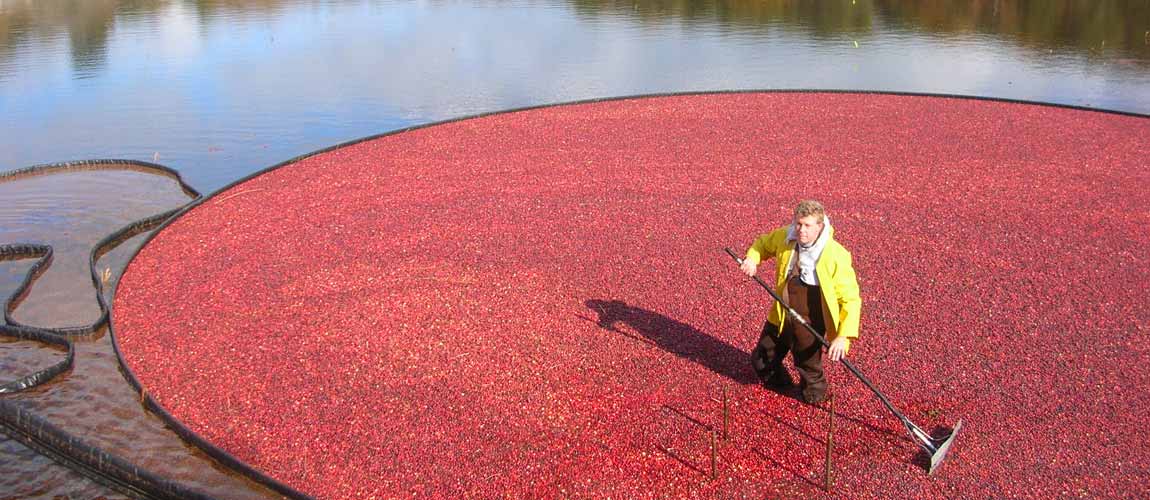 Cape Cod Cranberry Bog Tours
Enjoy our Cape Cod Cranberry Bog tour, and learn about cranberries, how they are grown, their history, their importance to Cape Cod and a lot more. We have been growing cranberries on Cape Cod for over 35 years!
A Fun, Interesting & Educational Tour
This is a fun, interesting and educational tour of one of Cape Cod's most historic and important industries.

You will learn about history and cultivation of cranberries, and will see cranberies bogs blooming, growing or being harvested, depending on the time of year. Tours are given by a grower with over 35 years of knowledge and experience. It is a walking tour, so wear comfortable walking shoes or sneakers.

Tours are given daily throughout the growing and harvesting season, and can be arranged by advance reservation based on availability and weather. It is best to call at least 24 hours in advance to discuss availability and locations. The bogs are in bloom mid June to mid July. Cranberries are growing mid July to mid September. The harvest is mid September to mid December. Fresh cranberries are available for sale (to pick up or be shipped) mid September to the end of December. We often see interesting local birds and wildlife. Bring field glasses or binoculars if you have them, and bring a camera.

Our Cape Cod Cranberry Bog Tours are $20 per person. Larger groups, plus bus and tour groups are also welcomed, and can be accommodated by advance arrangement. Please call 508-237-5478 to discuss arrangements. We must have at least 4 persons total to arrange a tour, but smaller groups than 4 persons can be arranged at a higher rate per person.